Meteorologists study how the atmosphere affects our environment, and specifically how it relates to weather. Meteorologists study past weather patterns, identify climate trends, and look at current weather to predict future weather conditions. Meteorologists use the data they gather for reasons associated with agriculture, forestry, air pollution control, transportation, defense, and climate issues such as droughts and ozone problems.

The typical educational requirement for an entry-level meteorologist is a Bachelor's degree in meteorology or atmospheric science. Higher-level positions generally require a Master's degree, and most meteorologists involved with research possess PhDs. Those who desire a career in research don't necessarily need a bachelor's in meteorology, as coursework specific to atmospheric science can be taken during graduate years. A bachelor's in science, math, engineering, or physics often provides an excellent background for the later study of meteorology. Certification for consulting meteorologists is available from the American Meteorological Society (AMS). Certified individuals have at least five years experience or a combination of graduate study and experience, references from other meteorologists, and have passed a written certification exam.
Meteorologists work in weather stations, but the locations of weather stations can vary greatly. Some weather stations are in bustling, busy environments such as airports, while others are located in remote, lonely areas. Meteorologists who work for small weather stations typically work alone, while those in larger weather stations usually work as part of a team. Meteorologists who are responsible for giving weather updates on the television or radio typically broadcast from studios, and must be prepared to work odd hours as weather develops. For meteorologists involved in research, fieldwork and travel may be necessary.
In addition to understanding the principles of atmospheric science, meteorologists must have excellent research skills, must be good at collecting and analyzing data, and must be willing to travel to learn about different weather systems.
The Federal Government is the largest employer of research meteorologists, who should continue to enjoy plenty of job opportunities. Job opportunities for meteorologists who broadcast the weather are extremely competitive.
For more information about meteorology and atmospheric science, visit the National Oceanic and Atmospheric Administration website.
---
Copyright 2010-2022 Zeducorp.
All rights reserved.

Meteorologists - Atmospheric Scientists
Related Images
Stormy Weather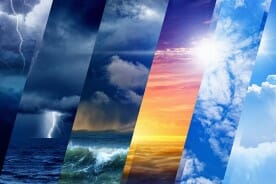 Weather Forecast Collage